This week's
Feature on Author
is on
Jacqui Jacoby
and her latest release, Bystander
.
Jacqui Jacoby on the web:
1. How do you keep coming up with fresh characters and stories?
I don't. They sorta appear when they are ready and start dictating. I generally figure out their basic
personality, they pick a name and then we go. Probably my biggest problem is there are so many. Sometimes you want to duct tape their mouths shut they get so loud all talking at once.
2. What do you like to read?
I have much less free time to read since The Dead Man came to call on April 26, 2013. I tend to chose wisely. I read non fiction. I read books by friends. I like classics like The Christmas Carol.
3. Do your characters stick with you after you've finished a book and if so, how do you handle it?
Yes. Besides
The Dead Men
who never go far, I have two brothers who have been talking to me for five years. The closest I have come to writing a story for them are the cousins in next springs Illegal Exit.
4. How do you handle writer's block?
Um ... I hate to sound like a pain, but I don't get it. I did go through a rough patch that lasted two years while I edited With a Vengeance. I was on a medication that caused it. Stopped the med, and exactly 30 days later, Ian Stuart of Dead Men Play the Game walked up to me and he's still here.
If I had to recommend how to avoid writer's block, I would say rotate projects. Be working on a book, maybe doing a blog, a short--if one gives you trouble go to the other to stay sharp.
5. Tell us a little about your book...
Bystander
was a ride. I wrote the whole thing in just thirteen days in a rush of adrenaline that felt amazing. The story, the characters, they all took shape out of people and places I knew from the past. The image of a stalker was deeply dark to me and deviling into the research to made him bad, exciting. Finding the crew to slow him down equally as much.
Bystander
is the story of Beth Hardwick, reader on the
Snap Shots
set in
Hollywood, California. Just out of a bad relationship with Mile Criswell, she thought he would disappear and she could move on. Miles had serious other plans. It took the involvement of her boss, former spot light hot shot and current Snap Shot producer to step in and rescue her. Sean, world famous for his dating as well as his movies has two passions in his life: his son and his cats. And the way the cats boss him around, you would think they ruled the world.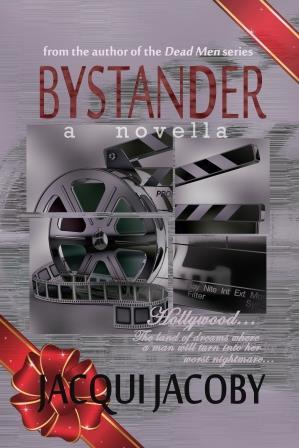 Enter Giveaway